I've been a live performance drummer since my junior high days. After leaving drums behind as part of my childhood hobbies, I fell sort of backwards into a recording & touring music career after college. I've recorded projects for Capitol/Blue Note & several other minor & indie label projects. I'm in process of gathering the stack of CD's I've recorded & posting hightlighs in a SoundCloud to show the diversity of styles I play. I'm available for live & recording session work as I write, record & collect players for my latest project: "Drumadelic". This project is also weaved into the narrative of my interactive book "Apocalypse Near". Learn more about that here: "Drumadelic" Grok & Roll".
Some of my past Tampa Bay & Miami Beach music scene projects:

Auditorium was the latest band I was playing & recording with here in Tampa. I had just finished my tracks for our upcoming release a week before my encounter with the afterlife. Our record, entitled, "The New Aezthetic" will be out shortly. Request our singles "Serenity" & "Martyr on 97X & WMNF in Tampa. We were due to perform at a SXSW music conference party in Austin Texas last March, but we obviously didn't make that... Maybe next year.

Click the DVD cover to the left if you want to see me drum with Audiotrium on 01/23/04 (less than a month B-4 my head blew up!.

MediaWhore - Multi-Media / Cyberpunk project that addresses the almost complete infiltration of the commercial media CULTure into the psyche of people in western industrialzed societies & what they do to get access to & participate within it. This project includes myself & Mikee Plastik (former 'ShadowCraft', 'Grim Faeries' guitarist, 'Infamous Plastik People' principle); Rob Kildoo (MindStatic & RK3 producer/keyboardist, programmer); & Blake Harris... (Blake's also been with Grim Faeries, toured with PigFace & played in countless Tampa industrial projects.. 'WhoreSpace' (Our web site), is currently down, but click this for some random pix.
Our reMix record, which includes trax by Canadian Industrial legends Kommunity FK, Motor Mark of Atari Teenage Riot, Olivia Newton Bundy (former Marilyn Manson / Collapsing Lungs bassist), RK3 of MindStatic , Curse Mackey of Grim Faeries, Evil Mothers, Pigface, & possibly remixes from Martin Atkins (Pigface, P.I.L., Ministry) & Charles Levi from My Life with the Thrill Kill Cult, will be released soon.
Record is complete but for my slacking on the J-card art & my re-Mix of our #1-dance-floor-soul-train hit - "Panic AmERICa ..kidding.. "Panic AmERICa is about as far away from a dance track as you can get & would make the "soul train de-rail & cause Don's afro to unfurl. E-mail mE & I'll slip you a working copy. You can request the single "Social Decease" on Dark Horizons, WMNF, Tampa. We recently got name- dropped in this interview on Marilyn Manson's USA website. I thought that was cool. I spoke with Brian, (Marilyn) a couple times back in South Beach, where we played a few of the same clubs when he was a "Spooky Kid". He's for real... He's not just playing being pissed off, but unlike other feaux punx, he can explain why he's pissed & what he thinks should be done about it. He's rather bright guy (in my estimation & he was one of the few people in Miami Beach that I can remember having intelligent conversations with. I saw them when they had a drum machine, but was too stoopid (or smart?) to offer my services.

Glitter Guns - I had just started gigging with Glitter Guns @ the time of my "incident". This is former 'Genitorturer' guitarist Chuck's project with former 'Mourning Gloria' singer Sadi. The last show I played was with them & 'the Semis' on January 31st, @Masquerade..Click here for pix. I may return to do a show with them soon.

This pic is from my So. Miami Beach based band 'Raw B. Jae & The Liquid Funk. We did an old-school 70's, Superfly funk / hip hop fusion. Click the pic or HERE to see a 3.4 megabyte video of us in our hay-day. Be patient on slow connections. There's more vids on this page in my reel.

Manchild - One of my bands in Miami that people there still ask about. We had a good run, did some touring & recorded a few records... We made a record for Capitol & I got to make a living for a few years doing nothing but playing music. Que sera, sera. There's a few MP3's here for those of you who still care. I'll be posting one of our videos & some unreleased trax of ours here soon.


• I'll post some pix of the Miami & Gainesville ManChild gigs with Parliament / Funkadelic soon.





Lucky-me -n- twice nominated Grammy songstress Tracy Bonham backstage at the Blue Man Complex Tour.
Tracy's new EP Is great (I reviewed it; [see right] for ProPercussion.com).


Tracy Bonham
"Bee" 5 song EP

Tracy Bonham, a twice Grammy nominated songstress, never fails to come off as wholesome & sexy all at once, and she does that very well on "Eyes", the opening track to this 5 song EP. What makes her even sexier to a guy like me (drummer) is the fact that she plays drums and plays them well. She possesses a strong, driving, solid rock groove with a funk flavor on the bass drum… The fabled 'sugar foot'. "Eyes" moves along nicely on her groove.

This record is stripped down & raw, yet lush all at the same time. The chorus on "Eyes" soars with Tracy's rich back up harmonies. "All Thumbs" lets her heartfelt lyrics & ethereal yet somehow strong voice take center stage above an acoustic guitar & string arrangement. "Shine" is psychedelic pop that makes you wish you were lounging in a grassy meadow with the object of your affection so that you might force them to listen to this lyric as your own declaration of true love. The 4th track "Freed" (originally released on Tracy's second Island record "Down Here") is presented in a live acoustic setting. This track stands in juxtaposition to "Shine". It could be the break up song you'll need if the relationship you started with "Shine" goes awry. The sitar & Tracy's haunting, verbed-out violin playing make the song wrap around you, perhaps to take the place of the lover being pushed away.

The final track has Tracy paying homage to Led Zeppelin in a cover of "Black Dog" with just her voice, her violin & a washboard. All in all, Bee is a passionate, diverse listen that will leave fans in Pavlovian anticipation of her next full-length release (which she will begin recording when the Blue Man tour ends).

The Return of Drumadelic ?



I'm bringing back the sonic seance that is

'Drumadelic'.. This is my multi-media, drum assault, 'Grok-n-Roll' project I started in Miami Beach. I'm crafting some new musical seances & trax to bring this audio & photon emitting vortex back on scene. Ready your eardrums that they may be set to flutter in vibrations of ecstatic communion with esoteric tones & secret rhythms. ;) Drumadelic.com will appear soon to announce the launch date.. This is a collective, so if you are an experimental musician, contact me to get invovled.



On stage with MediaWhore, 2003.



Still From a 'Raw B. Jae & the Liquid Funk' Video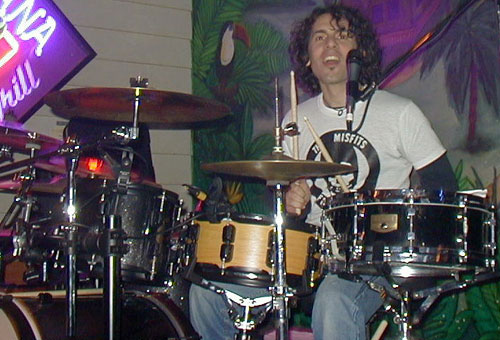 Doin' the cover band thang. It's fun to pretend...
Over my time playing drums professionally, I have recorded 7 LP's & several demos with various bands including a record for Capitol records in Criteria studio A (where so many classic records by so many artists I love have been recorded, that it still blows my mind that I got to sit & play drums in that room. I've also directed & been in a few music videos, two of which I posted within my reel on the "digi-video" page. I've also produced a couple of records & done a bit of touring. It's been fun, but I've felt that I can only do so much good from behind a drum set so lately I've been working on the megalomaniacal task of trying to save the planet from the humans..

My iTunes Hi-Fidelity playlists are back. I'm also going to post some playlists from my So. Beach days as DJ 'Dope -'E'
I'll eventually get around to posting some mp3's from all of my musical projects, including Scam, Vehicle, Raw B. Jae & The Liquid Funk, Tunnel Feelers, Eon, Clambake 2000, Square Egg, Auditorium, MediaWhore, maybe Shila.
Herez some of my thoughts on the Tampa Music Scene
Download Local music on iTunes.
This is the Tampa Local scene.. - The SouthEast Music Alliance.

SoulFound - Along with a few other Tampa bands like Truly Sunday, SoulFound sort of lives between genres & has to be experienced live to be fully appriciated. With that said, do NOT go to a Soulfound show unless you are ready to have all your senses sent reeling all over the room as Ivan (singer, bassist) & his boys launch through their balls out, stop on a dime & blast off again barage of crunchy, power pop that is too charging to call power-pop & too tight a& focused to be called punk.. Or maybe I just suck as a music reviewer..
4 Star Riot- Somewhere between the Clash & T-Rex, there's a 4 **** Riot.
john Mcnicholas - Makes me think of Matthew Sweet at times, except I like John more. Multi-faceted & always catchy power pop. You can relive your best & worst relationships in many of John's songs.
Knowing Stu - Tina can take a stage. Modern sounding but still, raw rock 4 gurlz & boyz.
The Semi's - I'm workin' on a site for Billy & the Boyz. Edgy & lovingly loose live shows. They always look & sound like they are about to fall apart, but in a good way. Watch any footage of Keith Richards & Ron Wood playing off of each other in the 1970's, then hit fast- forward - scan & you'll get a feel for what these guys play like.
Black Honkeys -Check out Brother Phil next time you wanna have some funkin' fun.
Rebekah Pulley - A honey who sounds like it when she sings & strums. Her voice wraps around me, her band, The Reluctant Prophets, wrap around her. Some of my favorite Rebekah is just her & her acoustic guitar. Her C.D. "A Brand New Day" finds it's way into my player a lot... Especially @ night. She sings me to dreams. Her guitar skills are on par with her voice, but I think they sometimes get overlooked. True talent.
The Mercy Seat - Somewhere between Morphine, Tom Waits & Nick Cave (some of my personal favorites), yet the Mercy seat has there own smokey, lonely, soundscape going. Hits you right in the lost soul with a fist of smoke exhaled from a wayward romantic.
Genitorturers - A sonic assault for ALL your senses... But, clearly not 4 all, which I see as a good thing. Gen does not bother trying to appeal to the feeble minded. You must be able to stretch your mental boundaries to appreciate the commentary being made here. Beyond that, there is the fullness of Rock music as what it is meant to be.... Explosive, slightly dangerous, worrisome to parents and evocative of unchained emotion. You can truly break free of the mundane at a Genitorturers show, and they are one of those bands that must be seen live to appreciate, not only for the visual/sensual experience of GEN, but because I feel they are a band that has, as of yet, not been documented well enough on record... Maybe it's because their sound is just too much to be encapsulated in a fixed form. Gen, for me, is the ultimate of rock goddess-ship (word?).
Blues Punks - Doc Lovett's band that's not exactly blues or punk, but some kind of alchemical amalgum that sticks between your emotional/nostalgic synapses. Listening is more like a deja-vu of blues & punk rather than a recognizable homage to either genre. Original, yet still reminiscent of other good things you've already heard in the back pages of your rock-n-roll memory.
Truly Sunday - Not truly emo or screamo, not truly punk, but truly influenced by those indie rock genres.
Cuban Sandwich Crises - Hungry for some talented musicianship & strong songwriting that doesn't knock you over to make it's point? take a bite of the samich. And yes, you can have extra hot sauce. .
Klik - Post modern Girl rock that keeps evolving; Chrissy & Stephi are yummy & Heavy They recently opened 4 EVANESCENCE @ Coachman Park. Twas a good match.=->
The BeauvillesThe new record is a hard charger. Their songs meande around r in their own space erfore they set you down in a groove. Always great fun live.
Mind Static - I call it Angel Industrial, Electronic melodic... Sexy & ethereal. I'm biased through because I love Wendy & Rob is my partner in Mediawhore.
Gravity - Gravity is big rock... I spell their sound "R-A-W-K"... Not rock, but RAWK. Huge & majestic kind of stuff. I hear & see more good things to come if they keep hammering on this anvil to forge out the sound they have begun.
Tribal Style - Modern roots-rock-reggae. An updated Black Uhuru, Sly & Robbie thing going on here. Amazing percussion. Jah natural mystic music lives. Long Beach, Cali, chillin' in Tampa.. Get out & support them & let's keep them here.
WMNF Community Radio - They keep the best of Tampa local music on file and will even play it for you if you ask nicely enough.
Download Local music on iTunes.