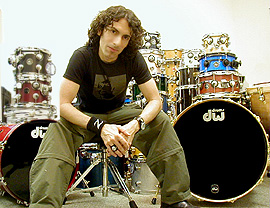 Drumadelic is an experimental multi-media band that crafts audio & visual media, the science of cymatics, & REFORMance art to create a sensory overload flow for the shaking of girls backsides & transmutations of consciousness. Part live performance, part DJ, all sense-surrounding music for inter-dimensional meandering.
My Drumadelic nation will soon arise to extrapulate & tremindicate on the flow..
what is the flow? Don't you know? It's the rhythm eternally grooving through the all of you & everything in the known universe.. It all vibrates.
While my musical style gets compared to drum-n-bass music, I am working on trax that I think move beyond this genre & into something that I call Grok-n-Roll & or PermaPunk music. I will repost drumadelic.com soon to explain all that. I'm working on a single for this project. In the meantime I am available for recording sessions & live dates. I have played many styles & can provide a CD sampler of music I've recorded in the past. Or take a look at my MUSIC page. When I'm not drumming or making films, I'm working on THIS
Check out the stuff below until I get drumadelic.com back online again, where there will be more media. The Drumadelic performance squad is a constantly rotating circus of performers, so if you are an experimental musician or performer & want to get involved, drop me a line here.
CLick the graphic to the right to see & hear an example of a drumadelic -a-thang >
(5.9 meg quicktime movie)
There are a couple of music videos with me playing in my reel on the DIGI-Video page.